>
> PGA Championship Betting Guide 2022: Scheffler And Rahm Favorites
PGA Championship Betting Guide 2022: Scheffler And Rahm Favorites
With the Masters in the books, the world's best golfers have three more Majors to play for this season. Next up, the 2022 PGA Championship which takes place from the 19th through the 22nd of May. The storied venue for this year's event is Southern Hills in Tulsa, Oklahoma where seven majors have been contested in the past.
Those previous tournaments offer a clue as to how the course will play this time round. In short: it's likely to be a tough test. The very fact that Southern Hills has hosted the US Open on three occasions demonstrates it is no pushover. While the PGA Championship is usually a more score-friendly major, this course probably won't allow an all-out birdie fest.
2022 PGA Championship
WHEN: May 19 – 22
WHERE: Southern Hills, Tulsa, OK
THE BETTING: Scheffler, Rahm and Thomas are narrow favorites
The last time the PGA Championship was played here was 2007. Unsurprisingly, Tiger Woods was the winner, taking down his 4th PGA Championship and 13th major. That year only five golfers broke par for the tournament with Tiger's eight under giving him a two-shot victory.
The defending champion is Phil Mickelson who created history at the 2021 running of the PGA Championship. At the age of 50 years and 11 months he became golf's oldest ever major winner, eclipsing the longstanding achievement of Julius Boros who won the PGA Championship in 1968 at the age of 48. Mickelson has unfortunately mired himself in controversy in 2022 and it is unclear whether or not he will defend his title. Regardless of his absence or presence there is a line of hungry young players looking to dethrone the great Lefty.
2022 PGA Championship Favorites
Top of the list is Scottie Scheffler. The 25-year-old New Jersey native is absolutely on fire this season. He has won four of the last six PGA events he has played, a Tiger-esque winrate. The fourth win in that run was no ordinary one either as he dominated the field in Augusta to take home his first major with a stunning Masters victory. He looks every bit the best golfer in the world right now which is reflected in his number one world ranking. Surely he can't keep this level of form up indefinitely?
Jon Rahm will have no shortage of motivation to take him down. The man from Spain has now lost his world number one ranking to Scheffler and will be keen to reassert himself as top dog. Rahm is the 2021 US Open champion and will surely be looking to add to his major collection as soon as possible. Collin Morikawa is the world number three and at just 25 years old already has two majors in his locker. A difficult course setup might suit him.
Other Contenders
Following his stunning final round at Augusta, Rory McIlroy might also feel another major is overdue for him. Meanwhile Justin Thomas, who won the PGA Championship in 2017, has been showing strong form and is one of the bookie's favorites. Dustin Johnson is not quite at the top of his game but can never be ruled out. And Brooks Koepka is another man still searching for his best stuff but with such a strong major record will always attract interest in the betting.
Of course, there is another significant player we haven't mentioned yet. After his near-miraculous return at Augusta, will Tiger Woods tee it up at Southern Hills? And if he does, can his legs hold up to four days of intense major tournament golf?
PGA Championship Betting Guide 2022
Bearing in mind the odds will differ and are updated daily, let's take a look at the lines from the top online sportsbooks. Starting with Caesars Sportsbook, where we can see Scheffler and Rahm are joint favorites.
PointsBet are offering slightly better value overall, and in particular if you are betting on one of the top guns.
Over to BetMGM sportsbook, where they have their odds published in decimal format.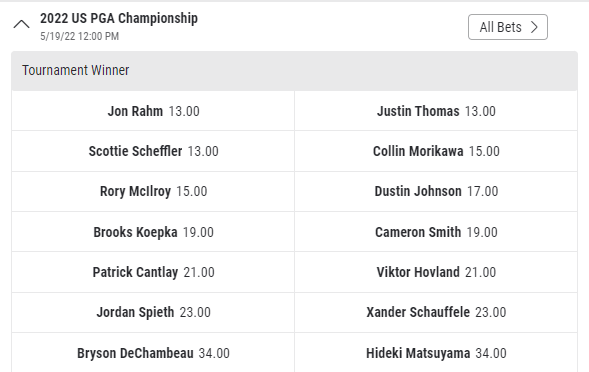 And DraftKings, who interestingly have Rahm on his own as the favorite.
Keep an eye on your local online sportsbooks for updated pricing as the event nears and then over the four days as the action unfolds.