Online Sports Betting in Virginia
Guide To The Best Legal Online Sportsbooks In Virginia
Welcome to the home of
online sports betting in Virginia

!
Virginia online sports betting was a long time coming, but has already proven a big hit. Monthly handle figures have exceeded other more established legal betting states and show no sign of slowing down! 
The speedy adoption of legal sports betting has been helped by a series of generous bonus offers Virginia's online sportsbooks are handing out to new users.
On this page, we'll explain the different types of wagers you can make at online sports betting sites in Virginia, and which sports you can bet on. But wait, there's more! 
Top places to bet online in Virginia
About online betting in Virginia
Virginia is a little unusual among the legal betting states, in that online sports betting became legal before there were any land-based sportsbooks or even casinos! 
So, while sports fans can already bet online, the state's first physical casinos and retail sportsbooks are still being built, with the first likely to open towards the end of 2022. 
The journey towards Virginia's first online betting sites started in March of 2020, when the Virginia General Assembly and Senate passed bills allowing legal sports betting in the state. On the 22nd of April, Governor Ralph Northam signed them into law – and the rest is history! 
FanDuel was the first site fans could bet online in Virginia, but was joined just days later by DraftKings, BetRivers, and BetMGM – and the list is still growing.
About Betting America
At Betting America, our goal is to take the guesswork out of online betting! We aim to provide easy-to-follow information about online betting sites in your state, so you can support your favorite teams with confidence.
Basically, we do the hard work for you – thoroughly testing new sites, and authenticating the credentials of existing platforms before we recommend them to our visitors. What it all boils down to is that if you see an online sportsbook here, you know it's trustworthy and legit! 
FAQs
Below, we cover the top questions we get asked about online sports betting sites in Virginia.
WHAT SPORTS CAN I BET ON IN VIRGINIA?
---
You can bet on all sports in Virginia. Depending on the time of year you will find markets available for the major professional sports, college sports, and other international events. Each Virginia online sportsbook will feature a slightly different choice including but not limited to:
NFL

NCAA Football

NBA

NCAA Basketball

NHL

MLB

Golf

Nascar/Auto Racing

Tennis

UFC/MMA

Boxing

Soccer

Rugby

Australian Rules

Cricket

Table Tennis
WHAT TYPE OF ONLINE BETS CAN I MAKE IN VIRGINIA?
---
Moneyline Bets:
This is the most popular bet type, it is simply betting on a specific team to win. The team with the negative sign is the favorite and the team with the positive sign is the underdog.
Example: New York Jets are @ -165, New York Giants @ +140: the Jets are favorites and the Giants are underdogs. In this example if you bet on the favorite, the Jets, you have to bet $165 to win $100. If you bet on the underdog, the Giants, you'll bet $100 to win $140. Moneyline bets on solely who wins.
Point Spread Bets:
Also known as betting the spread, this bet is on who wins and by how much. It is used to even out the odds between two unevenly matched teams. The sportsbook estimates which team is expected to win and by what margin. The favorite has a negative sign and the underdog has a positive sign. Players then bet that the team expected to win will exceed the margin of victory and "beat the spread" or players will bet the underdog will lose by fewer points than the margin thus "cover the spread".
Example: Patriots vs Rams. Patriots are favorites (-5), they have to win by six points or more to beat the spread and the Rams would have to lose by four points or less to cover the spread. If a game results in the exact number e.g. in this case if the Patriots win by exactly five points it would be a 'push' and bettors on either side would be returned their original wager. The spread is often expressed in half points to avoid a "push"/tie.
Total Bets – Over/Under:
This is a single wager that the combined score of a game will be over or under what the online sportsbook sets it at before the game. The bettor is not concerned about which team will win but is concerned on the combined number of points/goals/scores scored by the teams by the end of the game. Those who think the score will be higher than that set by the sportsbooks are "taking the over", those who believe the score will be lower are "taking the under". Normally expressed in half points to avoid ties.
Parlay Bets:
This is a type of wager that combines multiple individual bets into one bet. In order for the player to win, all the individual bets have to win. Despite your odds being lower to win, when you do win your payout is significantly higher. Parlays allow players to risk a small amount to win big when they bet online. 
Teaser/Pleaser Bets:
These are a form of parlay bets. The differences are 1) all bets within Teaser/Pleasers are Point Spread Bets or Total Bets and 2) the spread is shifted either for the bettor (Teaser) or against the bettor (Pleaser). All the lines are shifted in the same direction either for you or against you for the same amount of points.
Teaser: Here lines are adjusted in the player's favor thus the player has a better chance of winning, however this will be at a lower payout than a standard parlay.
Pleaser: The line is adjusted in the opposite direction of a teaser thus the line is adjusted in the sportsbook's favor so the player has a lower chance of winning than a regular parlay but the payout will be at a much higher rate than a standard parlay.
Prop (proposition) Bets:
This is a bet on something occurring that is not necessarily directly related to the final score. It is also known as a side bet. E.g. Lebron James Assists in a game 10.5; you could bet the over or under. Tom Brady 3.5 Touchdown Passes in a game; again you could bet the over or the under. Betting on the number of fouls in either half of a game or on someone running a mile in under five minutes would also be examples of prop bets.
Futures Bets:
These are bets on an event occurring in the future. For example, you could bet on the New England Patriots to win the Superbowl at the start of the season. These are particularly popular in soccer, golf, tennis and Olympic events.
In-Play/Live Betting:
This is betting on a particular sporting event after it has started. Odds are adjusted in real time depending on score lines, various statistics e.g. possession, injuries etc. Live betting allows continuous betting throughout the duration of a sporting event. Moneyline, Spread Bets, Prop Bets, Totals can all be placed during In-Play betting.
Round Robin Bets:
This is similar to a parlay bet. A parlay is a collection of single bets combined into one bet; a round robin is a collection of parlays placed into one bet. As a result you do not have to win every bet within the round robin to win some money, there is room for some losses. However payouts will not be as high when some of the parlays within the round robin lose.
PointsBetting (Only on PointsBet):
This is a brand new type of bet offered by PointsBet only. Wagers are placed on the points a team win by rather than simply the outcome of a game. E.g. $5 placed per point the Jets win by so if for example the Jets win by 9 points you would win $45, however if the Jets lose by 5 you lose $25. Essentially the winnings or losses are magnified depending on "how right" or "how wrong" you are. Wagers can result in big wins, but big losses can also occur.
Decimal/European Odds:
These are different formats for expressing odds. The decimal odds number represents the amount a bettor wins for every dollar wagered. For the decimal odds the number represents the total payout including the original wager amount, not just the profit.
Example: Decimal odds of 4.5 and you bet $1. If your team wins you get $4.50 back i.e. $3.50 profit. European odds, also known as fractional odds, are more common in European betting markets.
To convert fractional to decimal, divide the top or first figure by the bottom or second figure then add 1.
Example: 7/2 in fractional odds = 7 divided by 2 = 3.5 then add 1 which results in 4.5 in decimal notation.
Thanks for reading! You should now be well equipped to enjoy all the awesome online betting sites in Virginia! 
Remember, you can catch our top tips on staying safe online on our Safe Sports Betting in Virginia page. 
You'll find the lowdown on everything that is and isn't allowed at Virginia online sportsbooks on our Legal Sports Betting in Virginia page. 
And definitely don't miss our Best Sports Betting in Virginia page, where we spill the beans on just where to find the most generous welcome bonuses and special offers!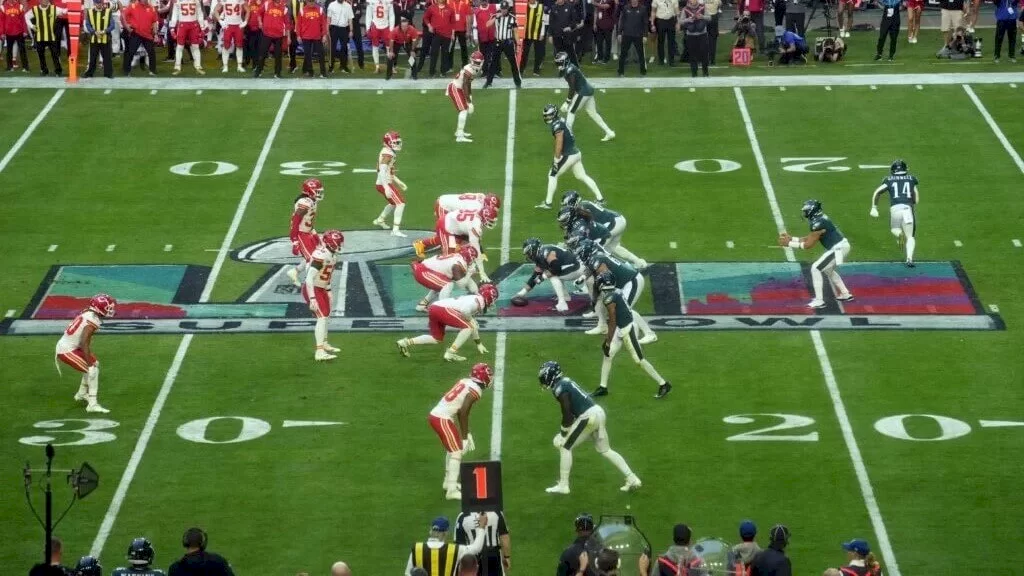 After meeting in Super Bowl LVII last year, the Kansas City Chiefs and Philadelphia Eagles are both among the NFL's
Read More