Safe Sports Betting West Virginia
Guide To The Best Legal Online Sportsbooks In West Virginia
Safe sports betting is
live in West Virginia

since 2018!
West Virginia was one of the first states to act after the Supreme Court overturned the federal ban on sports betting in 2018. That means sports fans in the Mountain State now have a wide choice of sportsbooks to choose from.
With a little help from us, we know you'll find all the safe betting sites in West Virginia fun, exciting, and easy to use. Better yet, all the safe WV sportsbooks we feature here also offer generous welcome bonuses to first time customers – so there's never been a better time to sign up! 
On this page, you'll find everything you need to know about the top sports betting sites in West Virginia, including:
Which sports betting sites are safe to use 
Where and how you can place bets safely and legally  
Betting America's Pro Tips on keeping yourself and your data safe
Answers to our most frequently asked questions 
How we ensure all the safe West Virginia betting sites we promote here are secure and trustworthy, and much more! 

If you're looking for general information about online betting sites in WV, like how to register, make a deposit, place your first bet and more, then make sure to check out our main West Virginia sports betting page.
BEST SAFE WV SPORTS BETTING SITES
Is online sports betting legal & safe in West Virginia?
If you're using a site listed here – yes! The online sports betting sector is growing fast – which is great news for fans – but it also sadly means there's a growing number of illegitimate sites posing as the real deal in order to make a quick buck. 
That's why we make it our mission to connect sports fans with the safest betting sites West Virginia has to offer.   
How Betting America ensures all our online betting sites are safe and secure 
In order for a sportsbook to be eligible, they need to be operating in at least three other states. The West Virginia Lottery is the state body responsible for the issuance of sports betting licenses in WV. 
However, this is just one of the boxes a site needs to tick in order to make it onto Betting America's list of top safe betting sites in West Virginia! 
In addition, apps must: 
Demonstrate a consistent record of fair player treatment and transparency 

Have verifiable reviews from real players 

Only use trusted, secure software, and be committed to protecting their player's privacy through the latest encryption technologies  

Offer multiple contact channels if players need help 
It's our goal to make finding the top, safe sports betting sites simple and straightforward for sports lovers. If they're listed here, you know you can trust them! 
That's the Betting America guarantee!     
Tips for staying safe
As passionate sports fan ourselves, we understand just how easy it is to get caught up in the action and adrenalin when your favorite teams are playing.  
For your own protection, please remember to stick with these common-sense practices:
Never wager beyond your means

. Even the very best teams have off days! If you feel like the fun is getting out of hand, remember that

help is available

. 

Check the fine print

. Before you place a wager, make sure you understand all the terms and conditions. Nothing sucks more than losing on a technicality! 

Always check that the site you're playing on is the real deal

. Scammers have become savvier than ever, and some illegitimate sites can look incredibly convincing. Check for the little padlock icon next to the URL in your browser, as this is a quick and simple way to see if the site uses encryption. Only follow links from sources you can trust, like us!    
If you follow these simple steps and stick to the safe West Virginia betting sites we list here, then you can relax and enjoy the action. 
FAQs
Below, you'll find answers to some of the most commonly asked questions we receive about safe online betting in West Virginia.
CAN I BET ON COLLEGE SPORTS IN WEST VIRGINIA?
Yes, betting on College Sports is permitted. And unlike some other states like New Jersey and Illinois, there is no restriction on betting on West Virginia college teams, whether they are playing games in-state or out-of-state.
WHERE CAN I BET ONLINE SAFELY IN WEST VIRGINIA?
You can bet online with any of the legal sportsbooks listed below. All are affiliated with a land-based sportsbook.
West Virginia Safe Online Sportsbook
List 2021
:
Online Sportsbook  –  Land Based Casino Partner

DraftKings Sportsbook  –  Hollywood Casino

BetMGM Sportsbook  –  The Casino Club at Greenbrier Resort

Caesars Sportsbook  –  Mountaineer Casino

FanDuel Sportsbook  –  The Casino Club at Greenbrier Resort

Betly Sportsbook  –  Mardi Gras Casino and Wheeling Island
WHO REGULATES ONLINE SPORTS BETTING IN WV?
The WV Lottery Commission, which was founded in 1985. Initially, it was created to assist and advise the Director of the Lottery and to carry on a continuous study of West Virginia Lottery operations throughout the state. However in 2018 when sports betting became legal in West Virginia it also became the regulatory body to oversee the new industry. It ensures all operators are comprehensively vetted so your funds, identity, and privacy are totally secure when placing wagers online.
IS WEST VIRGINIA ONLINE SPORTS BETTING SAFE?
Yes. Once you sign up with a regulated sportsbook that is approved by the WV Lottery Commission, it is completely safe.
HOW OLD DO I NEED TO BE TO BET IN WEST VIRGINIA?
You have to be 21 years or older.
IS ONLINE SPORTS BETTING LEGAL IN WEST VIRGINIA?
Yes. Sports betting was legalized in West Virginia in March 2018. The first bets were placed on August 30th, 2018. Online betting began in December 2018 via the BetLucky App but due to a dispute with their technology providers, it ceased operating in March 2019. FanDuel Sportsbook went live in August 2019, with DraftKings joining the action just a few days later.
Thanks for reading! Please don't hesitate to get in touch if you have any questions about safe betting sites we haven't addressed here. 
Or, for details on how to get started with safe sports betting in West Virginia, (including how to register for a new account, claim your welcome bonus, and make deposits and withdrawals) head on over to our main West Virginia sports betting page right now!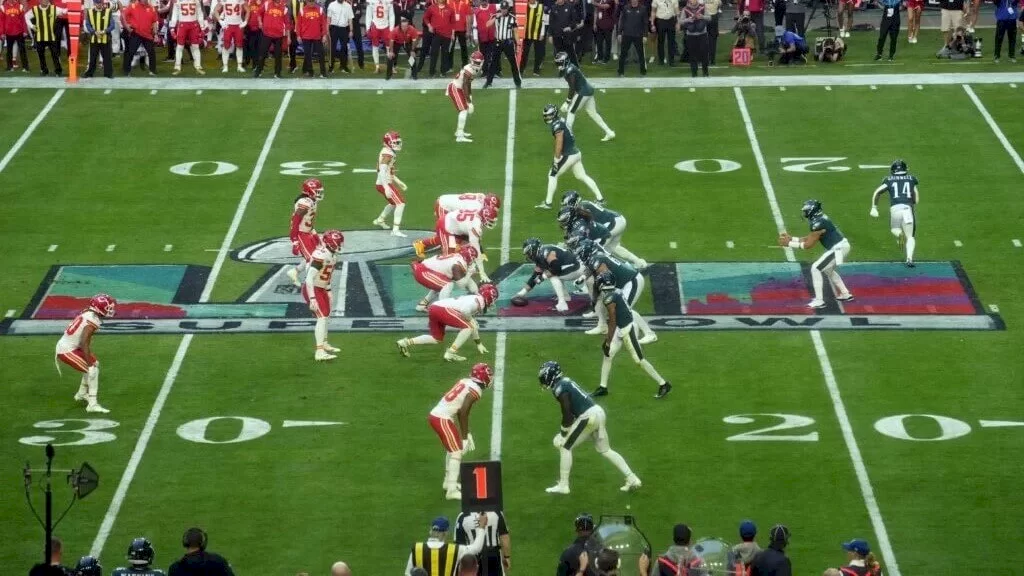 After meeting in Super Bowl LVII last year, the Kansas City Chiefs and Philadelphia Eagles are both among the NFL's
Read More