New Jersey's safest online gambling sites
Guide To Safe Online Sports Betting in New Jersey
Discover the most
secure online casinos

in NJ
Looking for a safe online casino in NJ? Then look no further! At Betting America, we know many of our readers are concerned about how to keep their money and their privacy secure when playing at online casinos. 
That's why we've done the hard work for you, hand-selecting the safest online gambling sites the Garden State has to offer. 
On this page, we'll share our top tips for keeping yourself safe when playing at online casinos, and show you what features we analyse when coming up with our top recommendations. 
When you're ready to get started, pop on over to the Main Online Casinos in New Jersey page for everything you need to know to get up and running on the safe online casino of your choice. 
However, you definitely won't want to miss our Best Online Casinos in New Jersey page, where we spill the deets on where to find the best welcome offers, free spins, and most awesome VIP programs! 
Without further ado, let's get started! 
The most secure online casino platforms in New Jersey
How we select the safest online gambling sites in New Jersey
We look at a lot of different things when we decide which online casinos are the safest to gamble at in New Jersey. Things like how long they have been in business, how many people have had good experiences with them, and what kind of security they use to keep your information safe are all important factors. 
We also make sure that the casinos we recommend are licensed by the New Jersey Division of Gaming Enforcement, and use a Random Number Generator to ensure that the games are fair. We want you to have the best possible experience when gambling online, and safety is always our number one priority.
One of the most important things we look at when deciding whether or not to recommend an online casino is their level of encryption and privacy. We want to make sure that your information is safe and secure, and that you can enjoy your gambling experience without having to worry about your personal data being compromised.
All of the casinos we recommend use state-of-the-art encryption technology to protect your information, and they all have strict privacy policies in place to ensure that your data is never shared with third parties. You can rest assured knowing that your information is safe and secure when you gamble online with any of our recommended safe online casinos.
Tips for keeping yourself safe when playing at online casinos
Here are top 7 suggestions for a secure online casino experience:
Use a licensed and reputable casino like the ones recommended on our safest online gambling sites list 
Look for casinos with good reviews from real players. 
Make sure the casino uses a Random Number Generator.
Make sure the casino encrypts your information.
Make sure the casino has a strict privacy policy in place.
Check for responsible gambling tools and support – these are always a good indication that the business cares about their players. 
Don't chase losses. Playing at casinos online is meant to be fun. If it's getting out of hand, walk away.
SAFE NEW JERSEY ONLINE CASINO DEPOSIT METHODS
New Jersey online casinos offer their users a wide choice of options for depositing funds into their account. In most cases you can choose from:
Credit/Debit Cards
Online Bank Transfer
E-Wallets: PayPal, Skrill, Neteller
Prepaid Cards
Play+ Cards
ACH/eChecks
PayNearMe
Cash at Cage
Credit/Debit Cards:
Most online casinos accept credit and debit cards for deposits. In some cases, options may be restricted to Visa and Mastercard. Additionally, some banks may block these transactions as their archaic rules don't allow deposits with gambling companies. As legal gambling becomes more widespread and more states come online this issue will become less common.
Electronic Wallets:
Availability is dependent on the individual app/site but established eWallets such as PayPal or Skrill are an option for some online casinos. You can only withdraw using eWallets if you deposited with the same method first. A benefit of this method is deposits and withdrawals usually process immediately.
Online Banking:
Casino players can often deposit by sending money directly from their bank accounts. If this method is available on your casino website or app it is usually a straightforward process.
Prepaid Cards:
Prepaid cards are like gift cards that players can use similarly to credit/debit cards to deposit any amount up to the value of the card. You can also withdraw to the prepaid card.
PayNearMe:
Some sportsbooks offer this deposit-only method. You simply select it as your deposit option with the casino, then decide on the amount you would like to deposit and the casino sends you a unique barcode. You can then go to your nearest 7-Eleven/CVS/Family Dollar where the cashier will scan the barcode and you pay them the amount of the deposit. Typically, your deposit will process within 15 minutes and is then available to use in the casino app/website.
Check:
You can deposit and withdraw using electronic check (eCheck) and you can withdraw by paper check. Typically, you cannot deposit directly to a casino using a regular paper check. With eChecks, after a player requests their bank to transfer money from their bank account into a casino account, their request is first passed through a clearing house before the funds are transferred.
Cash At The Cage:
In some cases, players can deposit or withdraw money at the cage of the land-based casino with which their online provider is affiliated.
SAFE NJ ONLINE CASINO WITHDRAWAL METHODS
While there are fewer options than for depositing, withdrawing from New Jersey online casinos is typically a smooth experience. The easiest way is to use the same option you used to deposit. If that option is not available (e.g. you usually cannot withdraw back to credit cards) you will be able to choose from the following:
eChecks
Paper Checks
Online Bank Transfer
E-Wallets: Paypal, Skrill, Neteller
Prepaid Card
Cash at Cage Withdrawal
ARE NEW JERSEY ONLINE CASINOS SAFE? 
Yes, all the legal online casinos in New Jersey listed here are completely safe to use. Internet gambling is a highly regulated industry in the Garden State, independently overseen by the New Jersey Division of Gaming Enforcement.
The NJDGE strictly maintains integrity and oversight of all online casino operators. Your money and privacy are protected and the fairness of all online casino games is guaranteed.
Who Regulates Online Casinos In New Jersey?
Safe online casinos in New Jersey are regulated by the NJ Division of Gaming Enforcement, which was founded in 1977. It is an independent body responsible for the integrity and regulatory oversight of the gambling industry in New Jersey.
With that out the way, you're now all set to enjoy the secure NJ online casino of your choice!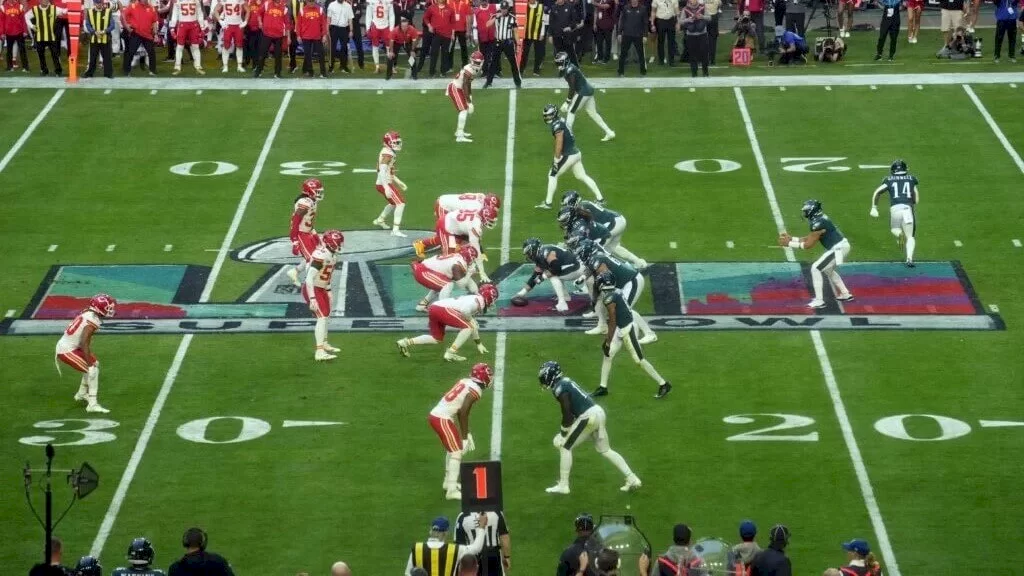 After meeting in Super Bowl LVII last year, the Kansas City Chiefs and Philadelphia Eagles are both among the NFL's
Read More