Legal Sports Betting Virginia
Guide To Legal Online Sportsbooks In Virginia
Your guide to
legal online sports betting

in Virginia
Discover all the top legal sports betting sites Old Dominion has to offer! 
Legal sports betting is live in Virginia since January 2021. You can already find some of the biggest and most famous names in the betting game live in VA. 
Caesars, BetMGM and DraftKings are among the many legal betting sites that have successfully launched their online platforms to date, with many more set to follow! 
On this page, we'll answer all your questions about what is and isn't allowed, who can take part in legal online sports betting in Virginia, how the party got started in the first place, and much more. 
To find out how to get started with sports betting, which sports you can wager on, and learn more about the different kinds of bets you can make, head on over to our Main Sports Betting in Virginia page. 
For top tips on protecting your privacy and enjoying a secure online gambling experience, as well as making deposits and withdrawals, be sure to check out our Safe Sports Betting in Virginia page. 
And last but not least, we dish the details on where to find the very best welcome bonuses and most unmissable promotions on our Best Sports Betting in Virginia page!
Top legal sports betting sites in Virginia
About legal sports betting in Virginia
With its long horse racing tradition, visitors to Virginia are often surprised to learn that the first physical casinos are only just going into construction now in 2022. In fact, gambling of any kind – with the exception of playing the lottery or private games of chance in the confines of your own home – was illegal in Virginia until quite recently. Specifically, casinos and greyhound racing were outlawed. 
So what changed? And what took so long?  
Well, like for so many other states, it was the overturning of PAPSA (the Professional and Amateur Sports Protection Act of 1992) which really got the ball rolling. This happened in 2018, and lawmakers in the 'Mother of Presidents' state were quick to start work on bills that would bring legal sports betting (and plenty of tax revenue) into the state. 
Originally, the bill would allow for only five legal sports betting sites. However, after some negotiation with industry leaders and pro sports leagues, the bill was amended to allow for a maximum of 17 sports betting permits. 
In other words, Virginia is well on its way to offering some of the most diverse and exciting legal online sports betting out there! Quite a turnaround for a state which didn't permit gambling of any kind for so long.
FAQs
If you've got questions about legal sports betting in Virginia, we've got answers! Find out how old you need to be, who oversees legal sports betting, and who can and can't participate below.
IS ONLINE SPORTS BETTING LEGAL IN VIRGINIA?
---
Yes, legal online sports betting is allowed in Virginia. Virginia legal sports betting was first approved in April of 2020, and became legal on July 1st of the same year. The first legal betting sites went live in VA in January of 2021. 
FanDuel was the first legal Virginia sportsbook to launch after forming a partnership with the Washington Football Team. They were followed shortly by other major industry names such as William Hill, DraftKings and BetMGM. 
And with several new land-based casinos set to open soon, all adding their own retail sports betting outlets to the mix, there will be even more brands to choose from in the near future! 
CAN I PLACE A BET WHILE OUTSIDE VIRGINIA?
---
No, you must be within state lines to play on Virginia's legal betting sites. State and Federal Law prohibits betting on a Virginia sportsbook from outside the state. This is enforced by Geolocation Technology. You are however free to register a new account and even make deposits and withdrawals from outside Indiana.
HOW OLD DO I NEED TO BE TO BET IN VIRGINIA?
---
Technically, you have to be 21 years or older to bet online legally in Virginia. However, there are some legal sports betting sites which have a minimum age requirement of 18. Usually, you will be asked to provide your age when you first try to sign up to a legal sports betting site or app, so you'll know straight away whether you're eligible or not.
CAN I BET ON COLLEGE SPORTS IN VIRGINIA?
---
Yes, betting on College Sports is permitted in Virginia, but there are restrictions. In-state collegiate betting markets are closed, so you cannot bet on an event involving a Virginia college team, only teams from outside of the state. In addition, proposition bets are not permitted on any college sports.
WHO REGULATES LEGAL ONLINE SPORTS BETTING IN VA?
---
The Virginia Lottery is the body responsible for the regulation of legal sports betting in Virginia. It was founded in 1987 to oversee the then newly approved state lottery and now also oversees Virginia sports betting. 
It ensures all operators are comprehensively vetted so your funds, identity and privacy are totally secure when placing wagers online. The Virginia Lottery is also responsible for auditing, licensing, and ensuring compliance among all legal betting platforms in Virginia.  
Thanks for reading! We hope you've now got a solid grasp on what is and isn't allowed when it comes to sports wagering in Old Dominion. 
Remember, you can find lots of helpful hints and guidelines for ensuring you have a safe and secure betting experience on our Safe Sports Betting in Virginia page. 
For general info on how to get started, which sports you can wager on, and what types of bets you can make, head on over to our main Sports Betting in Virginia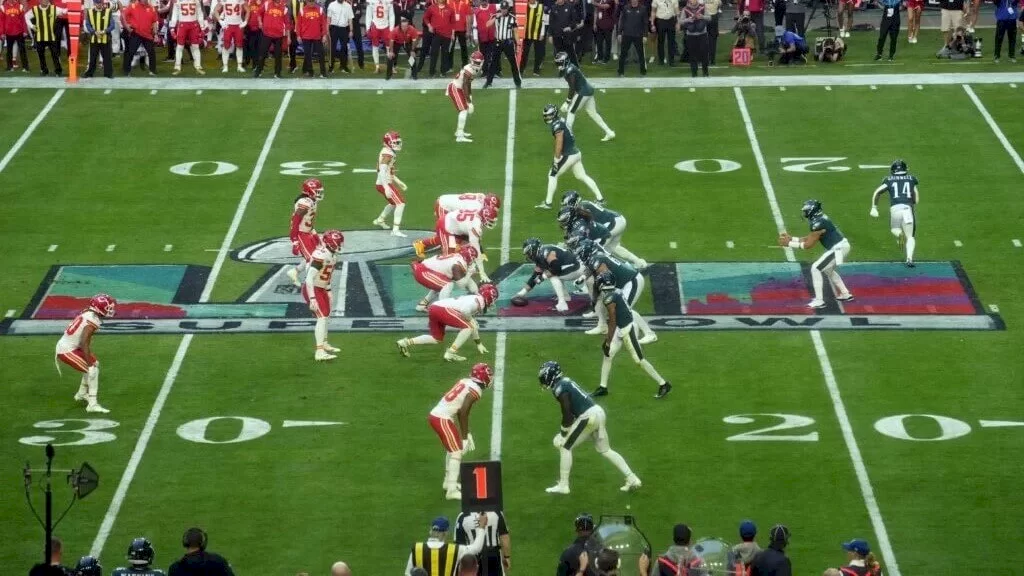 After meeting in Super Bowl LVII last year, the Kansas City Chiefs and Philadelphia Eagles are both among the NFL's
Read More