Legal Online Sports Betting in Louisiana
Everything you need to know about legal online sports betting in Louisiana
Discover Louisiana's top
legal online betting

platforms right here
Although legal sports betting has only been live in Louisiana since January of 2022, the state has a long and storied history with gambling. And considering one of the state's nicknames is the Sportsman's Paradise, it should come as no surprise that there are already a number of legal online sports betting platforms up and running in the state.
In this guide, we're going to take a look at all of the different options available to Louisiana residents, as well as some of the key things you need to know about betting online in the state.
As always, don't forget that Betting America has loads more information available about legal online betting in the Pelican State:
Top legal betting sites in Louisiana
About legal sports betting in Louisiana
Sports have always been a big part of Louisiana culture. The state has produced some of the greatest athletes in all of history, including legends like Reggie Wayne, Chanda Rubin, Morris Claiborne, Andrew Whitworth, and Tyrann Mathieu.
Louisiana is also home to some of the most iconic sports teams in the country, including the New Orleans Saints (NFL), the New Orleans Pelicans (NBA), and the LSU Tigers (NCAA). These teams have all won championships at the highest level, and they continue to be hugely popular among locals and fans around the world.
With such an impressive sports pedigree, it's no surprise that legal sports betting is proving to be a big hit!
Louisiana's journey to legal sports betting
As of January 28, 2022, sports betting is now legal in Louisiana. This includes all forms of betting, such as online and mobile betting. Previously, only retail locations and casinos were able to offer sports betting.
Legal sports betting in Louisiana is regulated by the Louisiana Gaming Control Board. The board is responsible for issuing licenses to both retail and online sportsbooks. They will also set regulations and oversee all aspects of sports betting in the state.
The referendum to legalize sports betting was passed in November 2020. However, it was not a state-wide referendum. Instead, each parish (county) was able to decide whether to allow sports betting within their boundaries.
Currently, 55 out of the 64 parishes have legalized sports betting, with Caldwell, Catahoula, Franklin, Jackson, LaSalle, Sabine, Union, West Carroll, and Winn opting out. If you live in one of these regions, you might have to get a little crafty if you want to bet on sports legally in Louisiana. And by crafty, we mean hopping in your car and heading to a nearby parish where it is legal!
Louisiana is also one of the few states that allows single-game betting. This means that you can bet on individual games, rather than just parlays or other bet types.
Overall, Louisiana is off to a good start with legal sports betting. There are already multiple online and retail options available, and more are on the way. With the support of the Louisiana Gaming Control Board, it is expected that sports betting will continue to grow in the state.
About Betting America
Betting America is your trusted source for accurate information on legal sports betting in Louisiana. We are passionate about sports, and committed to providing bettors with the information they need to make informed decisions about where to place their bets.
We believe that sports betting should be conducted in a responsible manner, so that everyone can enjoy the fun and excitement of placing a bet on their favorite team or athlete. We also believe that sports betting should be conducted in a legal and regulated environment so that everyone can feel safe and secure when placing a bet.
Betting America is committed to providing the most up-to-date information on legal sports betting in Louisiana. Thank you for choosing us as your source for information on legal sports betting in Louisiana! We hope you find our site informative and helpful, and we wish you the best of luck in your future bets!
Louisiana legal sports betting FAQ
Got questions about Louisiana's legal betting sites? You'll find the answers you need right here
WHO REGULATES ONLINE SPORTS BETTING IN LA?
The Louisiana Gaming Control Board
regulates legal sports betting in the Pelican State
. It ensures all operators are comprehensively vetted so your funds, identity and privacy are totally secure when placing wagers online.
CAN I BET ON COLLEGE SPORTS IN LOUISIANA?
Yes, unlike other jurisdictions there are no restrictions on betting on college sports within Louisiana.
WHAT DO I NEED TO SET UP AN ONLINE SPORTS BETTING ACCOUNT?
Legal betting sites in Louisiana will require you to supply the following information to register an account:
Name
Address
Date of Birth
Email Address
Phone Number
Social Security Number (last 4 digits)
ID may be required to verify your account
HOW OLD DO I NEED TO BE TO BET IN LOUISIANA?
You have to be 21 years or older to participate in legal sports betting in Louisiana.
CAN I PLACE A BET WHILE OUTSIDE LOUISIANA?
No, you must be within state lines to place a bet in Louisiana. State and Federal Law prohibits betting on Louisiana online sportsbooks from outside the state. This is enforced by Geolocation Technology. You are however free to register a new account and even make deposits and withdrawals from outside Louisiana.
IS ONLINE SPORTS BETTING LEGAL IN LOUISIANA?
Yes, online sports betting is legal in Louisiana. Following the historic vote on November 3rd 2020, 55 of the 64 parishes in Louisiana approved legal sports betting. Retail sports betting began in October 2021 and online betting went live in January 2022.
Looking to get in on the sports betting action in Louisiana? Our Main Louisiana Sports Betting page has all the info you need to get started, from details on how the different kinds of wagers work to clued-up tips on online safety.
And speaking of online safety, be sure to check out our Safe Sports Betting in Louisiana page for some essential guidance on keeping your personal and financial information safe when you're betting online.
Ready to find the best sports betting promotions and welcome bonuses in Louisiana? Then don't miss our Best Sports Betting in Louisiana page! We'll tell you just where to find the biggest and best deals on sports betting in the Bayou State.
So what are you waiting for? Get started with legal online sports betting today!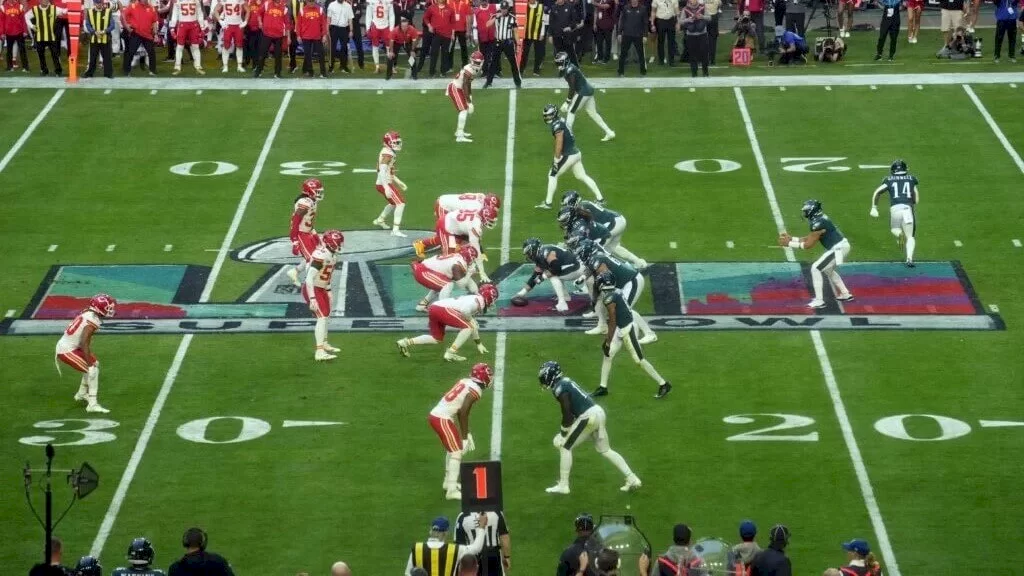 After meeting in Super Bowl LVII last year, the Kansas City Chiefs and Philadelphia Eagles are both among the NFL's
Read More